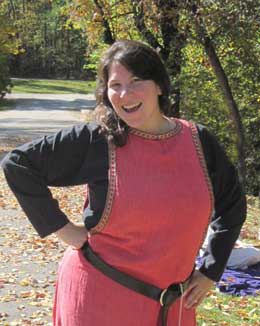 Greetings!
My name is Onora inghean Roibeaird, Mistress of Children to the Barony of the Flame, of the Middle Kingdom.  Onora, my medieval persona, is a late 7th century Gaelic (Celtic) woman who still has pieces of her life that are under construction. 🙂
Mundanely, I am known as Olivia Richardson, and like my persona, the pieces of my life are still under construction, but are much better formed and concrete. I am happily married to my wonderful husband, Adam Richardson (known in the SCA as "Alexander von Stettin" AKA "Ogre"). I am a teaching instructor at Fort Knox Schools and have a B.S. in Anthropology with a Museum Studies minor from Central Michigan University. I am an active potter in and out of the SCA and love to create arts and crafts.
I have been a part of this wonderful organization for about 5 years now and have a passion for learning and constantly trying new things. My current interests in the SCA (other than Heraldry) extend to illumination, calligraphy, archery, pottery, dance, sewing, leather working, gambling, gaming, and much, much more! I am very excited to be the Baronial Herald and am here to learn, educate and help as much as I can! I will be updating the webpage quarterly with new and fun Heraldic facts and games, so keep checking in!
Lady Onora inghean Roibeaird
children@baronyoftheflame.org