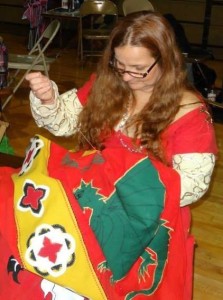 The Barony of the Flame provides many opportunities to participate in the areas of Medieval Arts and Sciences. We have members with a wide variety of interests including casting, textile arts, cookery, calligraphy and illumination, and many more areas.
For the novice there are opportunities to learn by taking classes at events or informally by interacting with people who have similar interests.
For the skilled artisan there are opportunities to teach students who are eager to learn.
Lady Emer von Atzinger
moas@baronyoftheflame.org