The Barony of the Flame welcomes you to Rose Tourney! The event will be held at the Shelbyville Fairgrounds on Saturday November 4, 2023.
Rose Tourney is an annual event where members of Order of the Rose sponser combatants in a tournament. This year's Rose Tourney will be an elimination (bracket style) tournament with combatants in archery, armored, and rapier.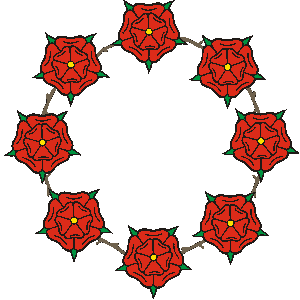 Each team shall consist of 6 members plus the sponsoring rose:
1 archer
3 armored combatants (no more than one member of the Chivalry)
2 rapier combatants (no more than on member of the Order of Defense)
Archery will be run as the first event. Placings from the archery shoot will be used to seed the bracket for the remainder of the tournament (think NCAA basketball seeding).
The combat portion of the event will pair all members of each team (3 heavy and 2 rapier pairings). The team with the most wins moves on, with the other team dropping to the lower bracket or being removed from the tourney.
Exact details will be based on the number of Rose teams present.
There will be a covered area dedicated to A&S displays and Crafter's Green space. Roses are encouraged to sponsor a prize for the display that impresses them in some way. This can be interpreted in a number of ways, scale, scope, promising work in a specific art or period, etc.
1513 Midland Trail, Shelbyville, KY 40065
Corner of KY 53 & US 60
November 4, 2023
Site Opens: 7:30am (opens for Staff) 9am (opens for public)
Site Closes: Guests leave by 7 clean up has until 11pm
Merchants: 8am-4pm
*Merchants will need to provide their own tables and chairs. Outside space is available. 
Adults: $15.00
Members: $10.00
Youth ages 6-17: $5.00
Children 5 and under are FREE
Merchant: FREE
Cash or checks accepted at the door.
THE SCA PROHIBITS HARASSMENT AND BULLYING OF ALL INDIVIDUALS AND GROUPS.
Participants engaging in this behavior are subject to appropriate sanctions. If you are subjects to harassment, bullying or retaliation, or if you become aware of anyone being harassed or bullied, contact a seneschal, President of the SCA, or your Kingdom's Board Ombudsman.