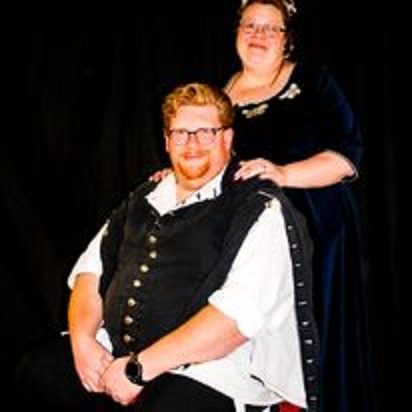 Greetings to their Majesties Midrealm from Captain Sigmund Kittel and Mistress Ellowyn Kittel.
My Lady and I would like to address your Majesties regarding the upcoming void that is going to be left in our Barony by the sudden, unexpected departure of our current Baron and Baroness. They have served our Barony through a time of great crisis and kept up the spirits of the Baronial Members. They have made sure to contact our members with small notes and bright pictures to make sure we kept going and had something to keep us smiling. We are saddened by the fact that Ben and Marissa will not get to finish their term as our Baron and Baroness. They are going to be SORELY missed.
In this sudden absence however, there will be a need for a new Baron and Baroness to take up the reigns and lead the Barony back into the light. My Lady and I would ask that you consider us for the position of Baron and Baroness of the Flame in this time of great need.
My Lady and I share a great love for our Barony and the people therein. We have been a part of this lovely land for 26 years. We have been of service to our past Baron's and Baroness' since both of our very first events. We have given a large part of our years together as Husband and Wife in service of the Barony and the Kingdom and we would very much like to continue that service in a position to lead our people forward in this new era and back into a state of normalcy, as it will be.
My Lady has served as the Baronial Chronicler, back before we were in the digital era, when everything had to be hard printed and sent through the mail. She served the group for 6 years in this position. She then stepped up as the Baronial Seneschal assisting and serving Baron Erick and Baroness Camilla through 8 of the 10 years of their service. She is no in her second term as the Baronial Exchequer and is working to pass that along to her Deputy. She has served as Event Steward at countless events, Border Raids, Christmas Tourney's, Collegiums, etc. She has hosted Feast at Christmas Tourney numerous times, always to the satisfaction of all. She has also gone to several events around the Midrealm and helped when needed there. She has a Heart for service, it shows wherever she goes.
I have served the Barony on the Martial field for many years. I am Squire to Sir Lothair von Drachenstein and have served by his side in many a war and field. I am a Captain in the Midrealm Army and continue to serve my King to this day! I have received the Award of the Dragon's Heart for my service to the Barony and the Kingdom. I have a very special place in my heart for the youth of the Society and some years ago, I decided to take on the responsibilities of the Baronial Youth FIghter Marshall and have had the pleasure to be able to help at many events in this capacity. The youth are our future, they need to be training in the ways of Chivalry and Honor even now on and off the field. Over the years, I have had the pleasure to serve as the Baronial Champion for Heavy fighting and accompany my Baron and Baroness on the Field at Pennsic. I have also served as Event Steward for several events in the Barony over the years and just as my Lady, whenever I attend events in other lands, I always look for ways to help and serve where I can.
I could regale you with countless tales of our service and our love for the Barony and Kingdom, but we would love to have the honor of showing that for ourselves if Your Majesties would give us the privilege to serve You and the people of our Barony as their next Baron and Baroness of the Flame.
In service to the Kingdom and SCA,
Cpt. Sigmund and Mst. Ellowyn – Kittel von Drachenstein