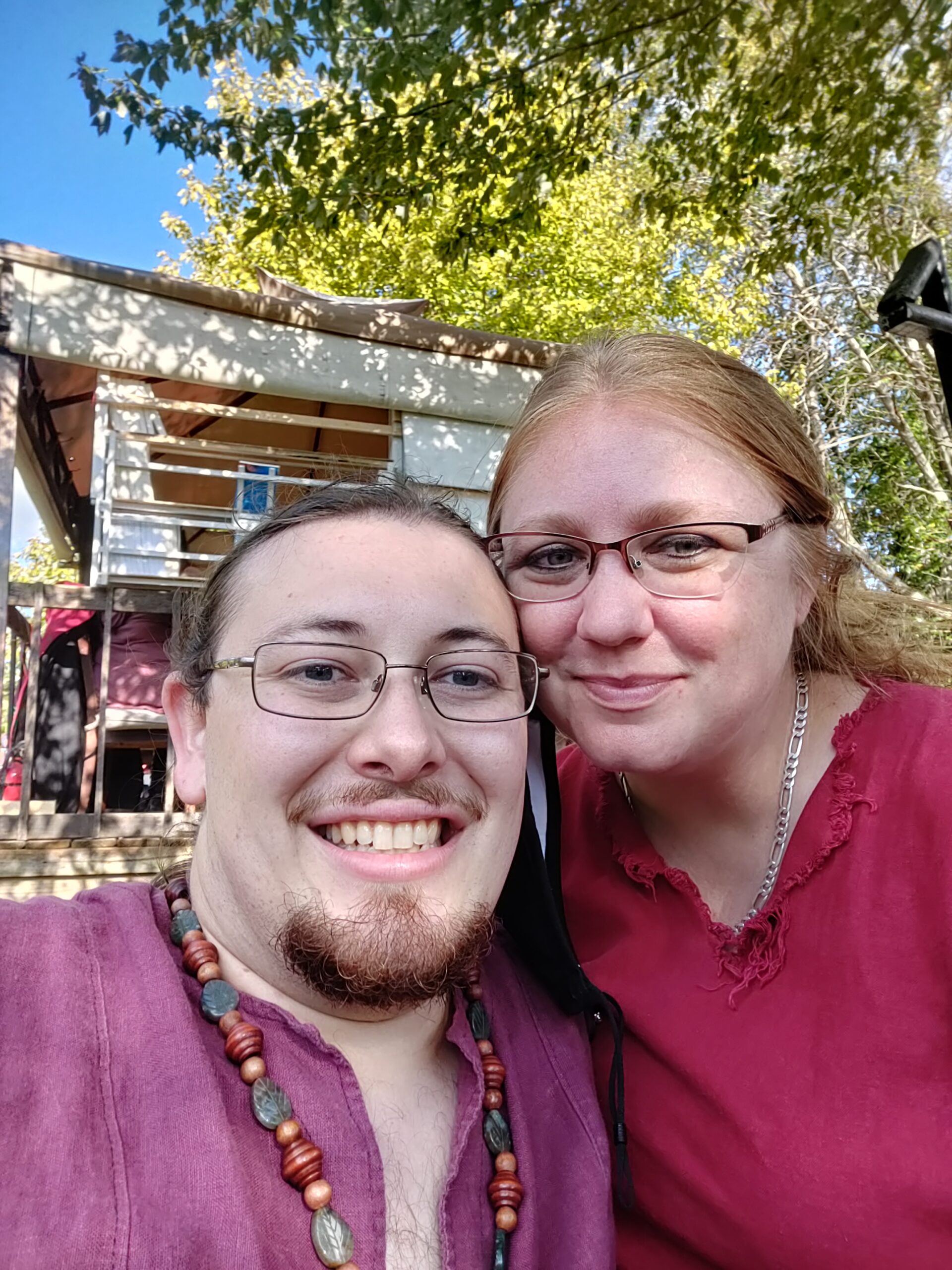 Hello from Lady Astridr Asastirr and Casimir von Dansk. We are writing to you for our letter of intent.
Astridr and Casimir joined the SCA at different times and different points in their lives. Having met the Flame Archery group while practicing at Tom Sawyer Park, Casimir's first SCA event experience was at Border Raids in 2019. There he was approached by several members of the Barony who wanted to help him discover his interests in the SCA. He was astonished at how welcoming and accepting they were for it being his first time meeting them and for it being his first event. The overwhelming feeling of being welcomed and wanted is something he wishes for all new comers, and all long time members, to able to experience and participate in within our Barony. Since joining, Casimir has jumped at the opportunity to become an MIT for Archery – even though he joined just months before the plague would shut down the world. He wanted to support the enjoyment of others by helping provide assistance at practices and events. To support both the participants on the range, as well as the other marshals so that they may participate in other activities as well.
Astridr's entry into the SCA was much different. She was invited to an archery practice, having never shot a bow before, where she met two amazing and inspirational members of the Barony, whom we are both happy to call mentors and friends today. After only a handful of practices, Astridr joined the SCA before even attending her first event. Over the last 5 years in the SCA, Astridr is still excited to spend almost all of her available time in dedication to the society.
Currently, Astridr is the Regional archery marshal for South Oaken. We run weekly, and even twice weekly, practices for archery. Astridr is also holding duties as Queen Runa's archery champion at this time. Over the last few years we have meet many people on the archery range and talked with them about the SCA and our experiences within it. We look forward to helping spark interest in the SCA with our friends and we've had several of them come with us to experience their first event. We enjoy giving our time volunteering in the SCA and teaching others on the archery range, encouraging archer's to continuously improve and to challenge themselves; oftentimes, running archery events wherever we are needed. This type of passion is something we hope ignite and to relight for new, current, and former members of our Barony – as we believe that some of us have lost our enthusiasm due to the lack of events, practices, and social experiences during the dark time of the plague.
Our vision for the Barony is to help shine a light on several activities that are less frequently displayed and shown appreciation for. Historically, our Barony, has showcased an abundance of fiber arts; however, we want to encourage our members to expand their knowledge and skills in other arts and sciences to prove that we have a dynamic and well-rounded skillset. We aim to showcase and spotlight our Barony members and see them grow their interests in all areas. One of our goals is to ask our artisans if they would open their studios to others – or to provide introductory classes to promote hands on learning to our populace; both to teach new things as well as to be able to share their art which may otherwise be overlooked.
We will strive to promote ourselves by organizing more Demos/practices at our local parks to help make ourselves more visible to the community and to spark interest in the SCA and our Barony. To reach out to schools, churches, and other organizations to expand our audience and to introduce more youth/young adults into the SCA. Our goal is to grow a new generation of SCAdians and to promote positive change in our Barony.
Lastly, we want to hear from others in the Barony. To ensure that their voices are heard, and to provide a space to get to know one another and for us to get to know them. In doing so we intend to encourage our members to attend events with us, so that we may show-off our baronial members proudly and support their learning in various areas of interest. We want to make ourselves more inviting to all of our fellow SCAdians by planning and hosting at least 1 event per quarter in our Barony.
Service to the Barony and the Middle Kingdom is what we promise as your potential Baron & Baroness. We will take this role with the humble understanding that our duty is to our fellow Barony members. We do not take this responsibility lightly as we plan to dedicate ourselves fully to serving our populous and our kingdom.