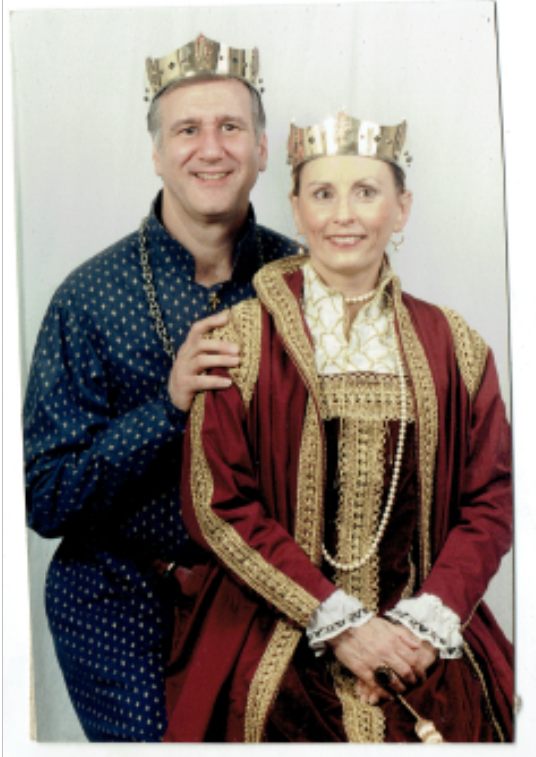 Unto all members of the Barony of the Flame and all nobles and gentles with interest in our barony,
Be it known that Erick der Rotnacken, and Camilla de la Reynarde announce themselves as candidates again for Baron and Baroness of Flame.
We desire that all members, ex-members and potential members of the Flame feel welcome and needed in the Barony.
Baroness Camilla de la Reynarde, OL
I joined the SCA in the 1980's and have been a paid member and an officer since then.
I started as a Dance Mistress and Deputy A & S officer for Riviere Constelle. Once I authorized in rapier (epee!), I became a MOF.
Seneschal (and founding member) of Aurea Ripae 1990
Since moving to the Barony of the Flame, I have served in the following offices:
Marshal of Fence: 2000 – present.
Baronial Chirurgeon: 2004 – 2015.
South Oaken Regional Chirurgeon: 2006 – 2013.
Middle Kingdom Chirurgeon: 2013 – 2015.
Baroness of the Flame: 2003 – 2013.
Herald at Large: 2014 – present
Baronial Herald: 2016 – present.
With all these offices, I have written numerous reports, hauled equipment, attended the majority of local practices and meetings.
Baron Erick der Rotnacken
I joined the SCA in 1985, authorized in heavy weapons and attend my first Pennsic in 1986.
I have attended every Pennsic since 1986.
I have been a group marshal for over two decades. I have been a marshal-of-the-field when not the group marshal.
I was seneschal of Riviere Constelle before the establishment of Aurea Ripae.
I was a founding member of Aurea Ripae.
I was seneschal of Flame for 1 year (2002?)
I was Baron of Flame for 122 months.
I have taught a class at Pennsic on folding chairs for 5 years.